About a year ago I ran out of whatever brand of car wax I was last using on my vehicles. I ran to my local Big Box store to pick up some inexpensive wax just to keep my vehicles protected. I saw the Turtle Wax Super Hard Shell with foam applicator and figured I would give it a try. The application directions are very straight forward and easy to use. I picked it up and I have been very happy ever since.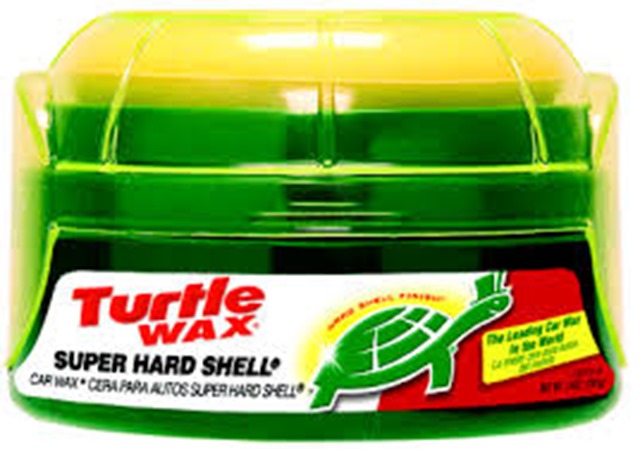 Directions
Wash and dry car
Apply to cool clean surface, not in direct sunlight
Apply a small amount of wax to a DAMP applicator  (This is one of the most important parts to remember as a dry applicator will make it harder to buff off dried haze)
Spread small amounts evenly
Allow time to dry and haze up (in about 80 degree temps it was dry and hazy in about 4 minutes)
Lightly buff for maximum shine
Pre-application
My vehicle is fire engine red and when it is waxed and buffed it shines and reflects like a mirror. When I set out to get the vehicle ready to be waxed, I had about an hour with of hand washing before it was ready. I started in the middle of the afternoon,  so by the time I was finished washing all of my vehicles it was way too late to start waxing. The following day, I was busy until after lunch. When I went to start waxing, there was a light dust on the vehicle which was removed by a microfiber cloth.
Application
While I should have started out with a clay bar and buffed out any scratches with scratch remover I just skipped ahead to the waxing. As I mentioned in step 3, you need to use a damp applicator and you should also always wash you applicator as it gets dirty. Waxing a vehicle with a dirty applicator can scratch the paint job even more and not give you the shine you want.
This wax goes a long way. When waxing, you should also remember that thinner is better. I spent about an hour just applying the wax to my vehicle, as it is large. Once I finished waxing everything, I pulled out my buffer and buffed the entire vehicle to remove the haze. Buffing leaves dried wax dust on the vehicle, which I use my microfiber cloth to dust off.
I changed wool buffing bonnets 3 times during the day to buff and polish the entire vehicle to insure I wasn't picking up contaminates and grinding them back into the paint.
Look and feel
The vehicle is smooth to the touch and feels like a fresh paint job. In a perfect world, I really should have used the scratch remover first to help with the small scratches. But the reality is, this is an all purpose vehicle and as seen its fair share of brush and tree branches scratching it, so it is not without its heavy scratches that cannot be removed. Overall the paint looks new and shiny, just as you would want from a good quality wax.
Final thoughts
The Turtle Wax T-222R Super Hard Shell Paste Wax is around $4 for a 14oz container making this a good price for many wax jobs. After waxing, the vehicles should have this great shine for a few months. The rain and other water just beads right off the surface. I will definitely be getting more of this product when I run out.