These Business Class tickets were purchased through a travel agent and I received no compensation in any form for this review.
I have reviewed Southwest Airlines as a domestic airline and since I flew Emirates to India and Dubai I thought it was time to review an International Airline.
We flew business class, since my grandfather, who has flown all over the world, prefers to be comfortable on long flights. Since I have back problems this made for a very pleasant flight.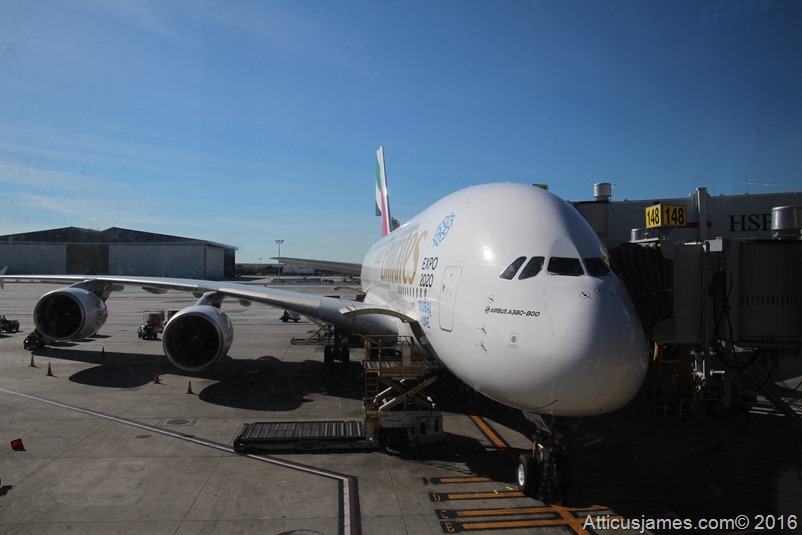 The Car Service
We were picked up in a Lincoln MKT Town car and taken from my grandfather's home in California to LAX and home again at the end.
It is a nice added feature to be picked up and dropped off when you travel with Emirates. They also took us to the hotel in Dubai and back again. Just one more detail that we didn't have to worry about.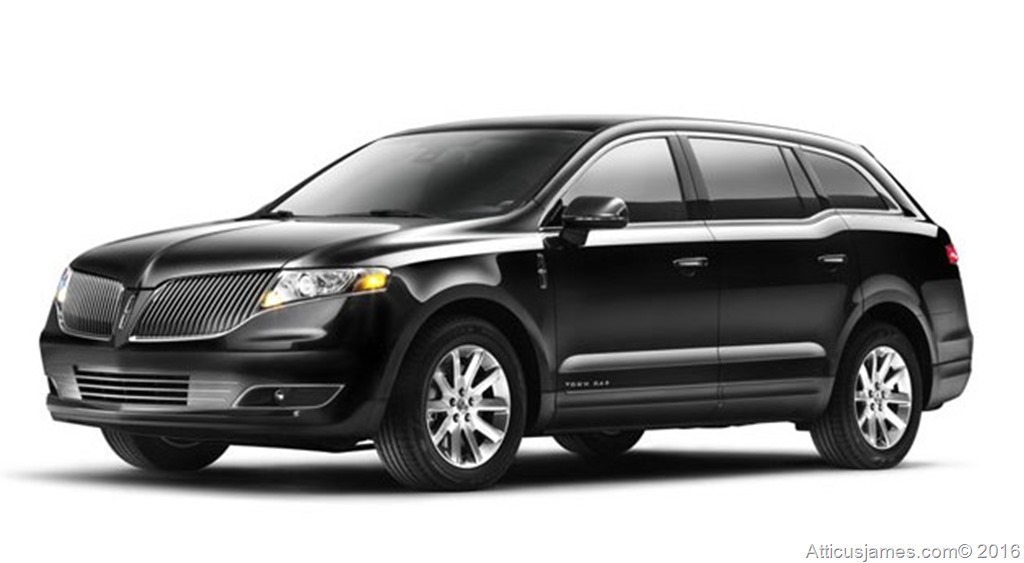 Lounges
There is something peaceful about going through airport security and then heading straight for the business class lounge. Sitting there for an hour eating and drinking before a long flight really helps melt the stress. It is nice not having to deal with the crowds when in the international terminals.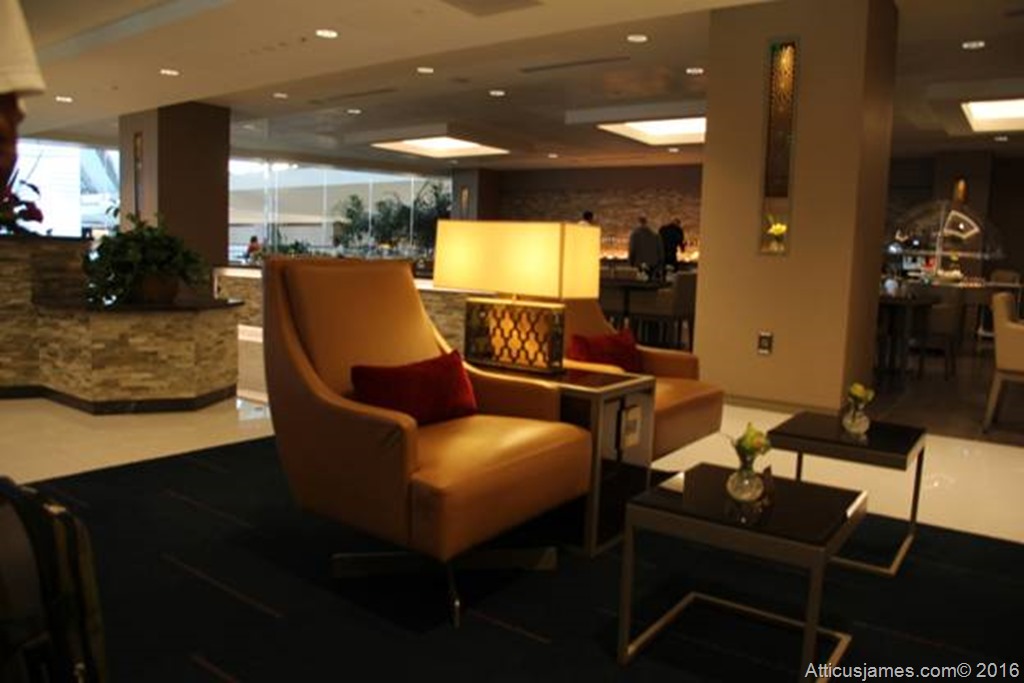 You have to admit having comfortable chairs, great food, alcohol and free WiFi makes the wait for your flight more enjoyable.
The A380-800
The Airbus A380-800 was something I had been really looking forward to before this trip. Knowing that this plane is a double decker plane is just awesome to me. I love watching shows about planes and I have wanted to fly in one since they first came out!
I cannot talk about any other A380s from other airlines, but I can say this was the most comfortable plane I have even been on. I will be discussing the Boeing 777 in a minute.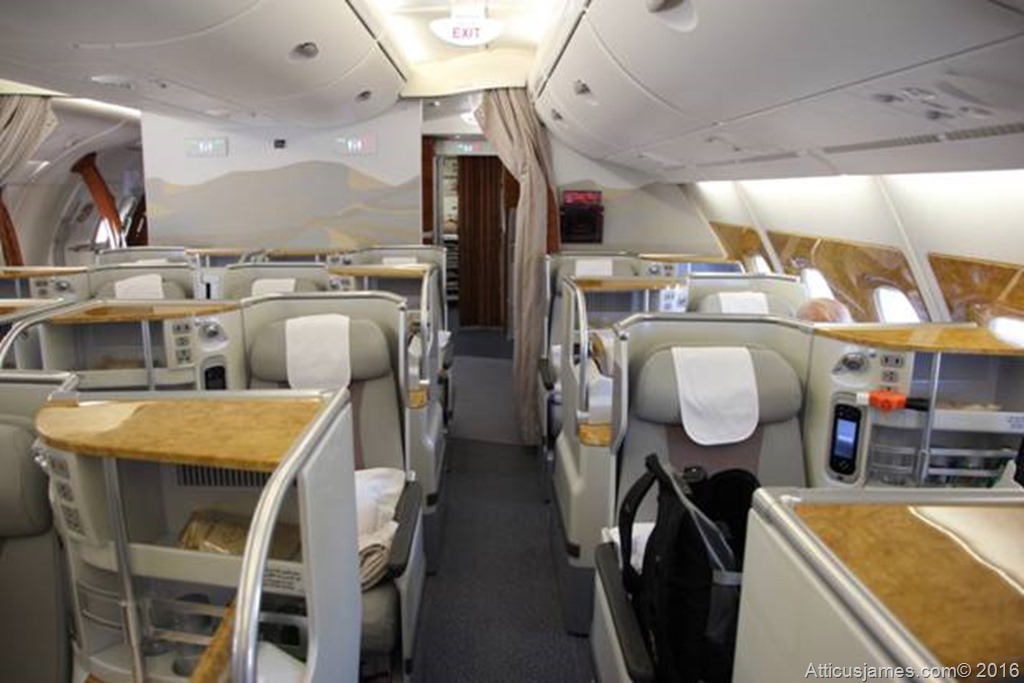 We had the one, two, one seating configuration meaning one window, two middle and one window seat when you look across the plane from window to window. The four flights we had with Emirates we always had window seats.
The A380 had Wi-Fi 10mb for free which was enough to send a few tweets, FB posts, snapchats or texts from iMessage or WhatsApp.
They also offered 500mb for $1 USD, so you could watch YouTube or stream from your device. I just watched movies on the in-flight entertainment system.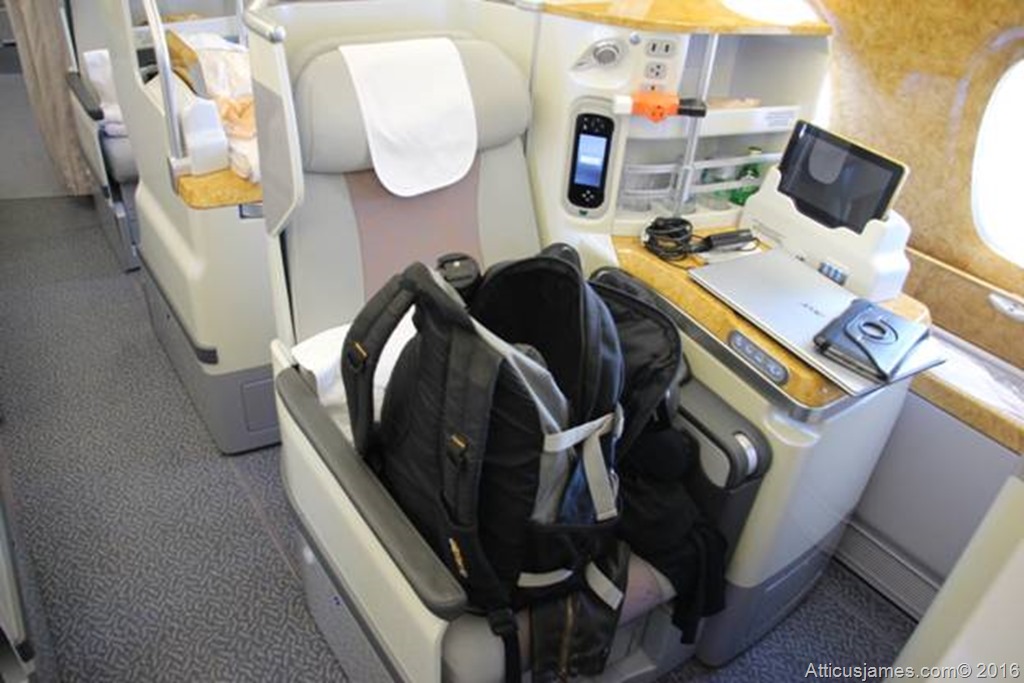 As you can see in the photo above, these are a few of the items that come with the business class seat
· Two USB ports
· One tablet that lets you control the [KB1] TV on the seat in front
· One remote that also acts as the game controller if you play any games on the TV
· Lay flat chair
· Two sodas and two different waters
· (Under the window) extra storage for takeoff and landing
· Free toiletry kit
· 2 meals with an offer of light snacks during the flight
· Alcoholic drinks and access to the in-flight bar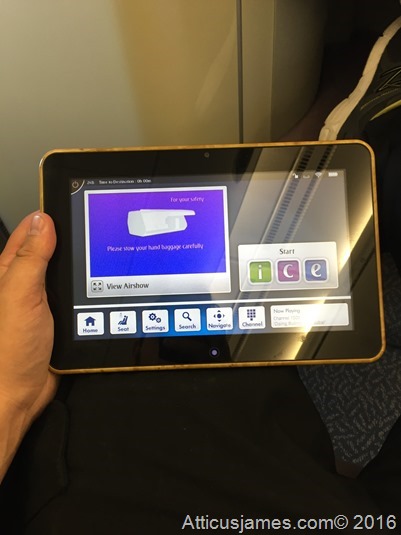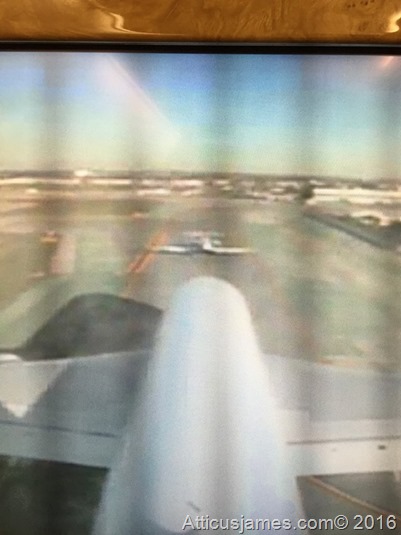 Loading the A380, they have to use three jet ways. Two on the lower level and one for the top. As to how they are so efficient at loading a plane that can hold upwards over 600+ people in such a short amount of time baffles me!
I am not sure which version of the Emirates A380 we were on, but they have 3 sets of plane configurations. The first two planes offer the same number of business class and first class with 14 First class seats and 76 Business class. The Economy seats change from 399 seats to 472 seats all on the lower deck. The third plane offers 58 Business class seats and 557 economy seats with no first class. Part of the economy class seats are on the top deck. We never flew on this plane, so I don't have any experience with this plane. I know our two flights had 27+ crew members working the flight, flight attendants as well as those in the cockpit.
The Lay Flat Beds
The lay flat beds were really nice. When the A380 goes into "night" time, the flight attendants bring out foam mattress and make your bed for you so you can sleep. I ended up staying awake most of my flights. I slept when I landed to help with jet lag. The beds were very comfortable and easy to fall asleep on, even for someone with back problems.
A380 Bar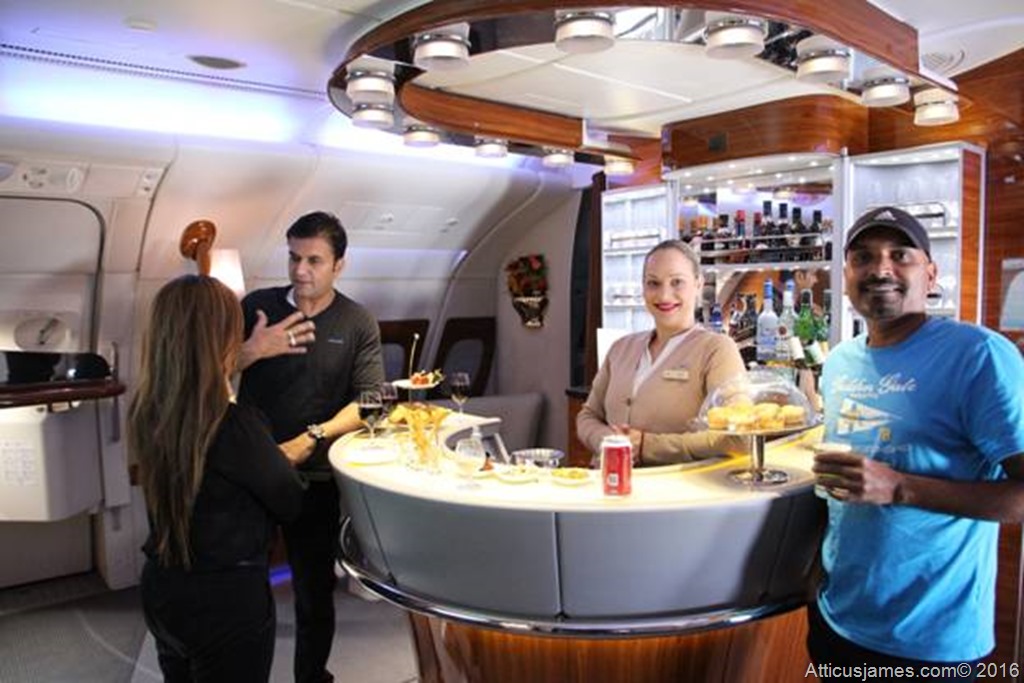 Flying out to Dubai, no one used the bar. I was sitting in the seat just in front of the bar. I walked by the bar a few times to go to the bathrooms or to see what snacks they had laid out and no one was using the bar.
It was a different story on the flight from Dubai back to LAX. This bar always had at least a few people hanging out. The bar isn't all that big and I had my back against a wall to take this photo. You can get quite a few people hanging and drinking together and have a nice little party.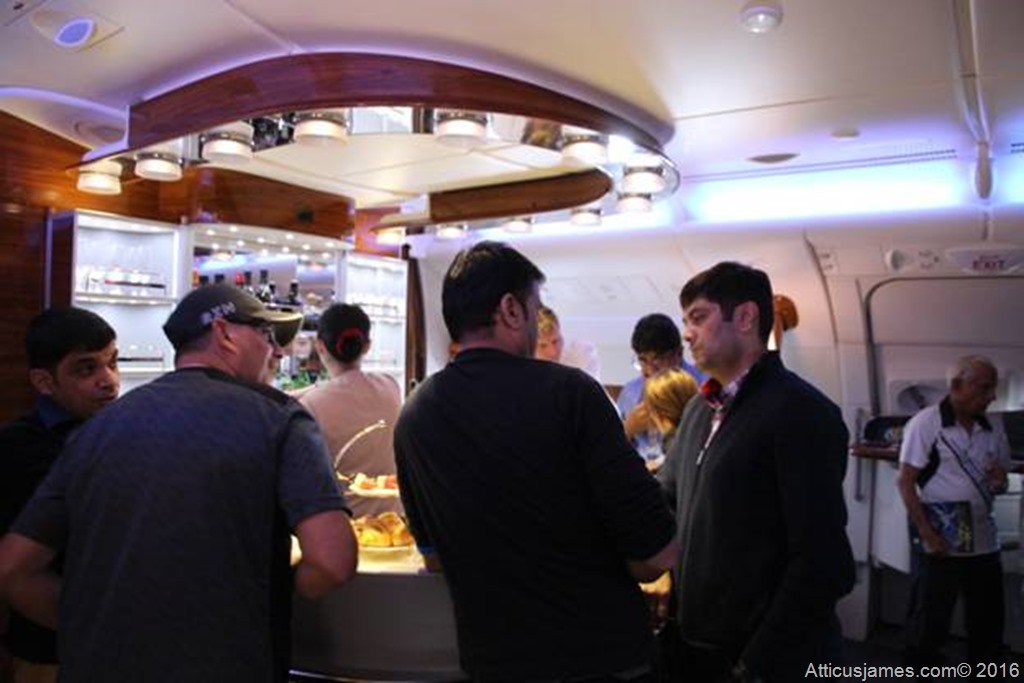 Now I will say, Emirates, if you are going to call yourself a "bar" you should at least be able to make a whiskey sour! Since I couldn't have a whiskey sour (and everyone in the bar agreed that it is a staple cocktail) I had to sip on my pretentious Glenfiddich Scotch, 18 Year.
On a side note: they do ask you, before takeoff, what drink you would like, then bring it to you shortly after takeoff.
The Emirates 777-200
We flew the 777 from Dubai to India and from India to Dubai. I have told this joke to a number of people but we rode in 4 Rolls Royce's.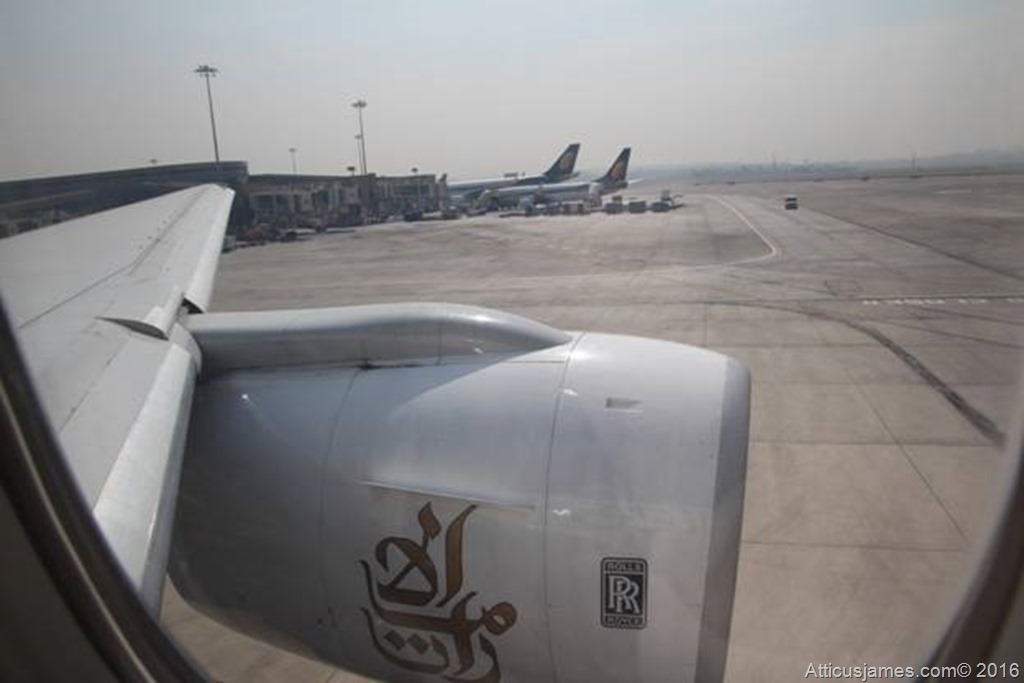 Okay so maybe we didn't fly "in" a Rolls Royce, but they were the engines that flew us back and forth from India and Dubai.
The configurations for the two Boeing 777s seats were a Two, Three, Two set up. My grandfather and I sat next to each other. It wasn't a bad set up, except when the flight attendant had to lean over to fix the stuck TV. It fixed itself and she almost got nailed in the chin as it popped up at the most inopportune time. SORRY!
The meals were the same as they were on the A380 since they are prepared in the same place. Delicious and tasty. They do offer bar service on the 777, but they do not have a lounge or bar in the plane. Boo hoo! This was only a four hour flight for us so, not really a "long" flight.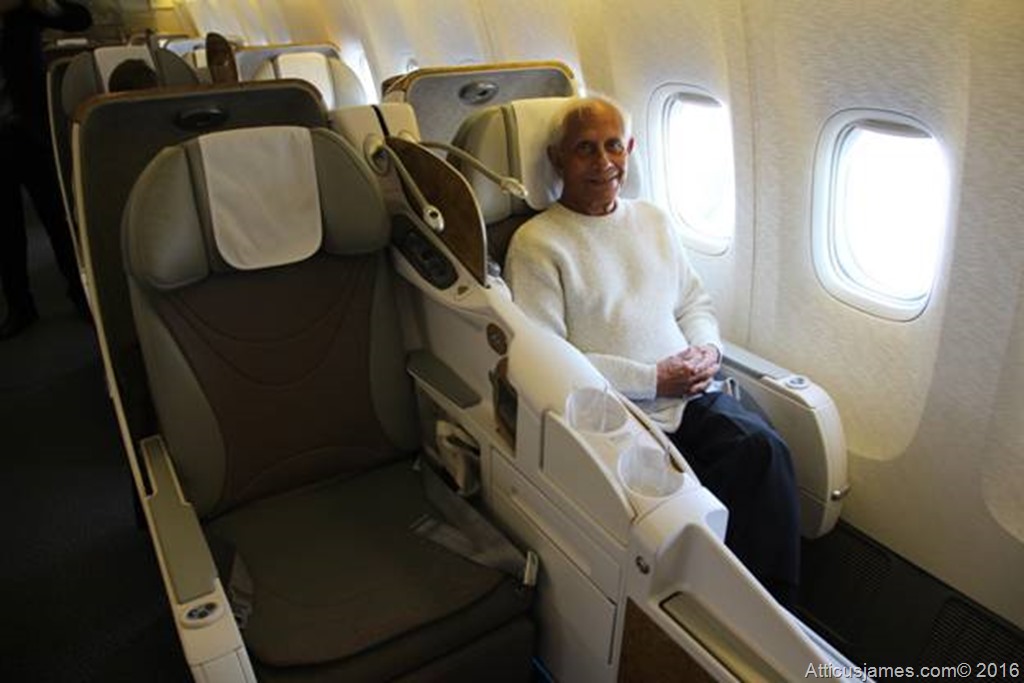 ICE: Information, Communication, Entertainment
On your TV, Emirates has access to their ICE: this is your access to your TV and gadgets. The selections you have are three on board cameras to watch while flying. You can see cameras from the tail, from under the cockpit and one under the plane aimed straight down. They also have world news and sports as well as info on the flight and location of the plane. Pretty cool to be able to track yourself across the globe. We flew over the North Pole.
Communication wasn't something I used or looked at. In hindsight that is something I should have looked at for the sake of the review. I know you can call from the plane and I see they have seat-to-seat messaging. Since my grandfather was next to me,behind me or in front of me by one seat I never messaged him.
Entertainment was something I enjoyed immensely! I got caught up on a few movies I had wanted to see and one movie I won't admit to wanting to see. They have a few YouTube videos from Casey Neistat and a number of others who I didn't know or care about. They also had some non-name-brand video games to play and TV shows.
Final Thoughts
Having car service to and from the hotel in LA and Dubai was very nice, the business class seats were comfortable, entertaining, offered great food and drinks. I loved it! I will not go as far to say they are my airline of choice just yet, as I would like to travel more on other airlines A380s.
Emirates is located out of Dubai, UAE. When you look down the line of terminals that Emirates uses, you will just see a long line of A380s and it is a beautiful sight to see.
The 777s we flew on didn't have Wi-Fi and the TV screens and remotes weren't clear or quick to respond. It would have been nice to have seen an updated 777.
The flight attendants for both types of aircraft were AMAZING and always on top of everything. I am looking at you Lynn.
Emirates! You guys are awesome and I am looking forward to flying with you again soon. I plan to head back to India and plan on using Emirates to get there again!
---