The Southwest Airlines Review
As someone who travels enough to have a go to Airline but doesn't fly enough to rack up the 25,000 miles needed per year for the "elite status" American Airlines offers I can tell you this, if you fly less than 25,000 flying miles per year Southwest is the place to start!
Southwest Airlines
I live 20 minutes either way from DFW International Airport and Dallas Love Field so I have all the options of airlines open to me without having to drive forever to get to the airport. Nothing to me is more stressful before a flight than having to drive two hours to get to the airport and still have to deal with TSA.
Southwest is awesome for a lot of reasons
· No assigned seating
· No first class
· Two Free checked bags
· $72 Flights
· Peanuts!?!
I have flown first class a number of times and honestly it has always been on short flights. So the biggest upgrade was the bigger seats and warm cookies. If you fly a lot, yes this is a nice perk to have but if you aren't willing to cough up the upgrade fee why be reminded of the warm cookies?
Southwest doesn't fly everywhere as you can see from the map below. However they do fly to a lot of airports.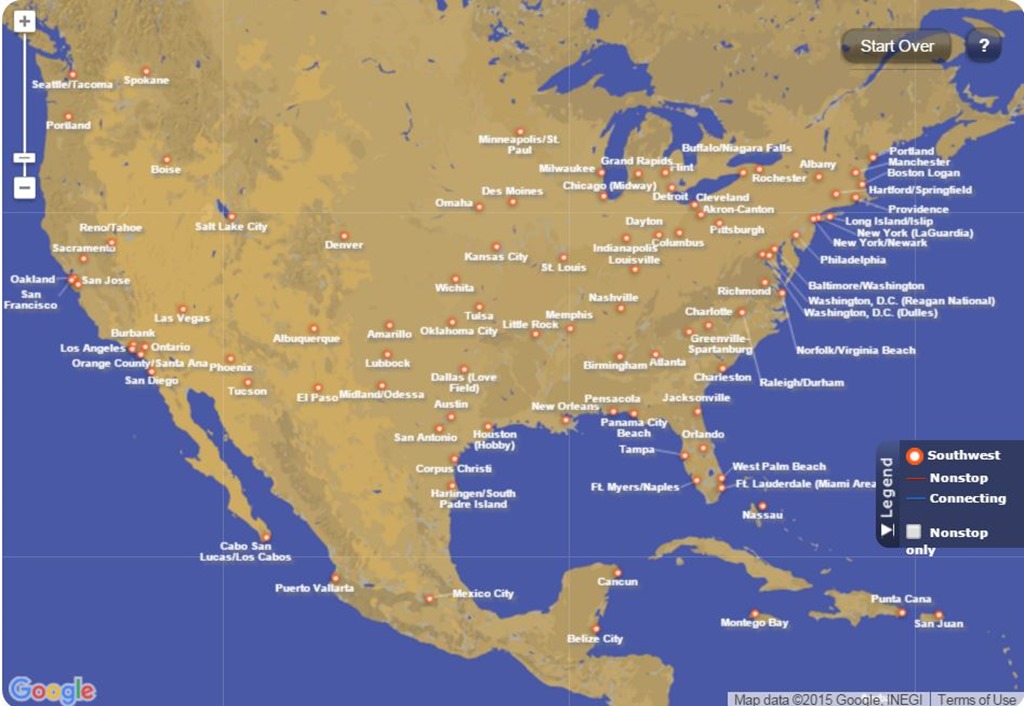 The bulk of my travels are to LA, Las Vegas and on the rare occasions Phoenix. When I make my way out west I have two options with LAX or John Wayne (Orange County). This is really helpful for me as I have business near both and family within 30 minutes of either. Southwest fly's out of both always making my trips less stressful.
I avoid Sky Harbor Phoenix at all cost, just due to how many bad experiences I have had with layovers, TSA and the general overall lay out of the airport. I have family located there and so sometimes I have to man up and just go. It is comforting knowing once I deal with all of that, it is Southwest I am flying with in case I have I have to stay longer than expected or you have flat on the way to the airport or TSA holds you up etc…. Southwest allows you to call and cancel your flight. You can then rebook your flight and reuse the fare that you paid on your flight. You just have to do it before your flight leaves. This is a huge bonus and one that I keep in my back pocket in case of emergencies. I just don't know of any other airline that offers this.
Rewards Programs and Casey Neistat
As I said I don't fly enough to reach the base level rewards program with someone like American Airlines or any of the others who offer big perks to frequent flyers but I do want to talk about them for a minute. (Southwest does have a rewards programs where you can earn free flights)
I have been a follower of Casey Neistat for years and I have always enjoyed his work. He filmed this a few years back in regards to AAdvantage and how he has his Executive Platinum status. As of late in his daily vlogs he has been sharing a few more perks such as golf carts to take him from one terminal to the next, the airport lounges and some of the other benefits.
Emirates
I am excited to share that I will be visiting for the first time, my grandfathers' homeland of India. The trip is coming up in February 2016 with a six day layover in Dubai. I will be going with my grandfather for three weeks. I will be joining up with him in LA for our flight to Dubai with Emirates on their A380. I am very excited about experiencing a plane this size and an airline that offers the amenities that they do.
My flight to LA will of course be with Southwest as they offer two free checked bags and I intend on flying out with some camera gear and my luggage.
Final Thoughts
If you know you are going to be flying enough to rack up the miles, loyalty to someone like American Airlines does put you into the elite status and give you awesome benefits. It seems to me that most airlines have just never returned to being about the passenger. They want to charge you an arm and a leg for a checked bag and they can't even muster up the cost to give free peanuts with your drink.
Southwest is one that truly stands above. They aren't someone who is catering to just the elite and frequent flyers. They have a funny business model that people like Frontier Airlines just doesn't get. Southwest makes money by making sure people want to fly with them again! WHAT?!?
Are they crazy?! They want you to come back by offering free checked bags every time, cutting out the ELITE and offering no bullsh*t $72 flights?! So they don't fly everywhere and they don't offer flights to overseas but they aren't that type of airline. They want you to fly with them again by making your flight as easy as possible from what they can control.