I purchased this drill at the beginning of 2014 because all of 5 my Milwaukee 18V Lithium ion batteries had started to reach the end of their life span. I needed a good drill for some home remodeling projects and just normal honey do list items around the house.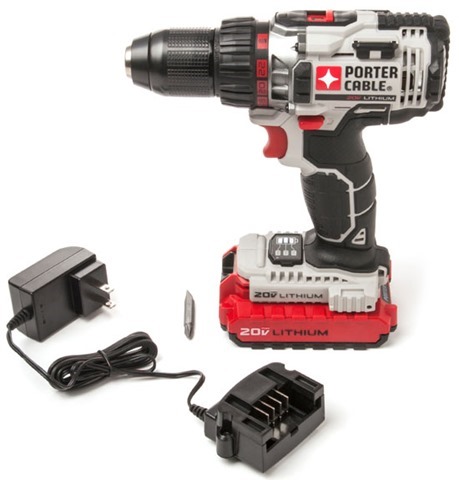 Introduction
Over the years I have owned five different cordless 18 volt drills. I have learned that about the time that all my batteries for that model drill, start to reach the end of their life cycle it's time to shop. There is always a newer drill that is smaller, lighter and has better torque for a cheaper price than it is to replace my old drills' batteries. I was lucky when I found this Porter Cable Drill on a deal-a-day site for a much better price than I had found anywhere else.
Specs & Features
· Voltage: 20
· Battery Type: Lithium Ion
· Max Power: 330 UWO
· Clutch Settings: 23
· Chuck Size: 1/2″ "
· Tool Weight: 3.5 lbs
· Length: 7 3/4"
· Height (w/battery): 9"
· High performance motor delivers 330 Unit Watts Out
· 2 Speed gear box (0-400/0-1,600) delivers the power needed to complete large and small applications
· Metal ratcheting chuck minimizes bits slipping in chuck
· Battery gauge displays charge remaining in the battery
· LED light brightens dark work areas
· The compact size and light weight  allows tool to work in tight areas and minimizes user fatigue
· 20V Max Lithium Ion batteries with 1.5 amp/hour cells delivers more power and runtime in a smaller package
Size
This is the smallest, yet most powerful drill, I have owned as of yet. My last drill from chuck to back came in at about 11" which makes this drill noticeably smaller. The battery even come in at under 2" which is an inch and a half shorter than my last drill.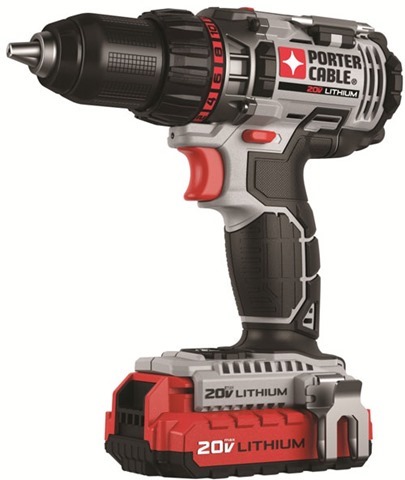 Power
After about one year of use, the drill still has a very strong battery. I have on occasion drained the battery and had to switch over to my Milwaukee to finish the job. It is a simple remedy to just buy another battery, I just haven't got around to it .
Torque and Speed
This drill has a lot of torque. If you are new to higher quality cordless tools it is important to remember that these are work tools and not just a cordless screwdriver. One of the ways to find out how much torque I have to drive a 3/8" lag bolt into a piece of hardwood like oak. If I can snap the head off I know that I have to watch what I am doing more carefully.
This drill has two speeds as most current construction drills have. You generally need to drop the speed down to "1" if you are using it as a screwdriver because it will easily strip out the screw head.
Weight
The biggest difference I like from a fatigue standpoint, is that the Porter Cable 20v battery is one pound less than my 18v Milwaukee battery . Any reduction in weight without losing any power is a major benefit.
Grip and controls
The grip size is perfect for my size medium hands and there is still room for larger hands. The grip is rubber so you are sure to keep a grip even with sweaty hands. The forward and backwards controls are in perfect reach for my thumb and index fingers to quickly change the direction. Your speed or torque switch is mounted on the top of the drill like most other drills and is very easy to switch when you need more speed or more torque.
This drill comes with two magnets on top to store extra screws while you are working on a project.
Charger
The charger is very easy to use. The only complaint or concern I have is the power cord. It reminds me of the power cord on the "no name" throw away drills that are given to people who don't use power tools but feel like they should own one. The wire for the cord is either a 18 or 20 gauge wire with thin insulation so one needs to be careful when using it.
Final thoughts
Overall I am very happy with this drill. I would have liked to have had a second battery but for the price it isn't a problem. If you are used to the older cordless drills you will like the way this drill handles. The battery life is very long considering how lightweight it is.