This is my first impressions of the Leatherman MUT (Military Utility Tool). I plan to release my full review later this month, after I have had a chance to use the tool more. I have had the Leatherman MUT for about a week now. I haven't used it much in the field and it has spent most of the time in its pouch on my person or in the desk next to me.
SPECS of the Leatherman MUT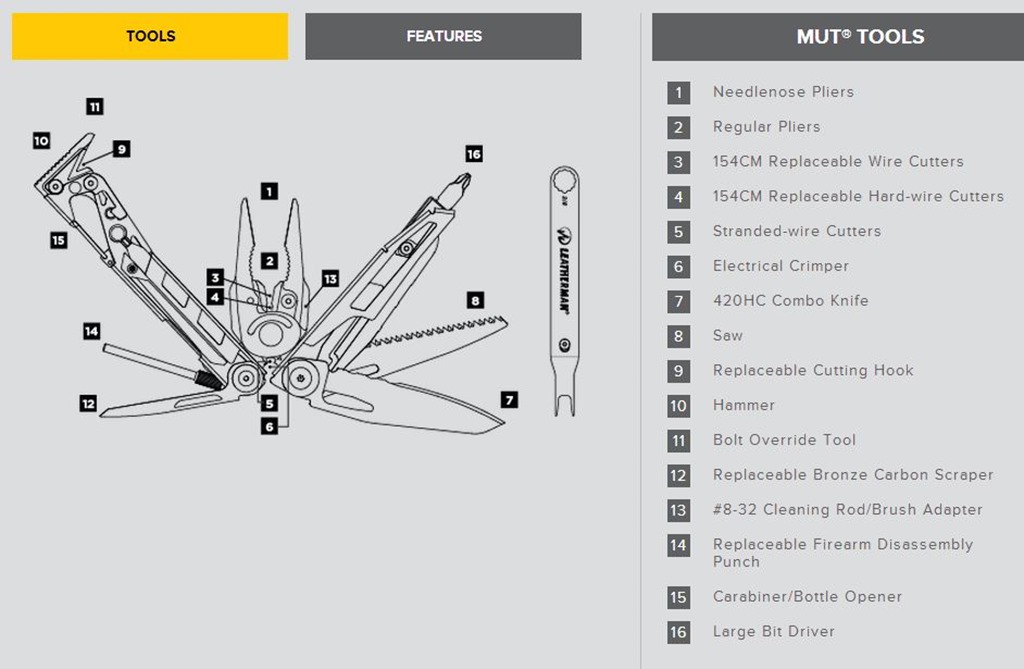 The Leatherman MUT weights in a 11.2 oz. or 317.5 g so it falls on the slightly heftier side of what I normally carry (Leatherman Wave 8oz). The weight is not that noticeable on my hip.
I did take the 3/8 wrench/ AR front sight tool out of the pouch as I am afraid of losing it. I have been carrying the Leatherman Rail to the range since I got it Christmas 2013 which has the sighting tool on it. I think if maybe there was a way the wrench combo could have been added to the MUT that might have been better. I don't know yet and I will get back to you on my finding later.
Serrations VS. Straight Edge
The Knife has serrations which I have never been a fan of on the same blade as your straight cutting blade. Since Leatherman was trying to make this the best battle tool they could, I get it, as there are a lot of people out there that like that. It is all about getting the tool to fit your hand and not weight 400 pounds.
A Gunsmiths Point of View
The carbon scraper will be nice when I am cleaning the review guns as they tend to be more worn than my firearms. I took this tool into my gunsmith who agreed that this was designed nicely for taking your guns down.
The pouch is sewn to handle even the heaviest of wear and tear. I will talk more on the webbing and how it adjusts for your belt or molle gear in the next article.
Overall Thoughts
I am very happy with this new (to me) Leatherman MUT. I can see this replacing my Leatherman Wave for everyday carry.