I am a 189 pound 5' 7" gym rat. I am not a 6' 5" 325 pound offensive tackle for a professional football team. My bed however seems to think I am. Let me rewind and start from the beginning.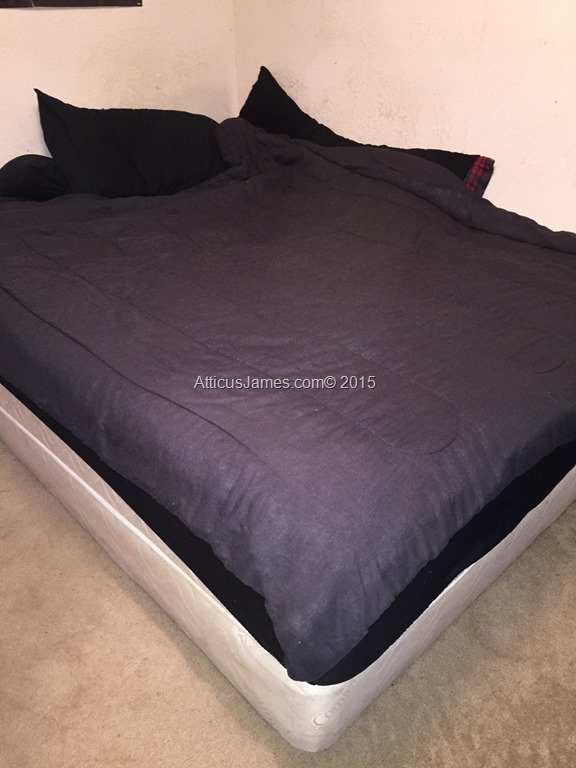 The Prelude
Short cute story, I broke my back which ended with me in constant pain in my back. My relief normally comes from sleep, which I need from a bed that can cradle my body and keep me from rolling around at night.
The Bed
About 3 years ago I needed to replace my mattress and I found an ad online offering a Comfortaire Celesta dual chamber queen side airbed. My folks had bought a used Sleep Number Bed about 5 years prior. They loved it and have had no problems with it. I figured for the price, I would go and check out this bed.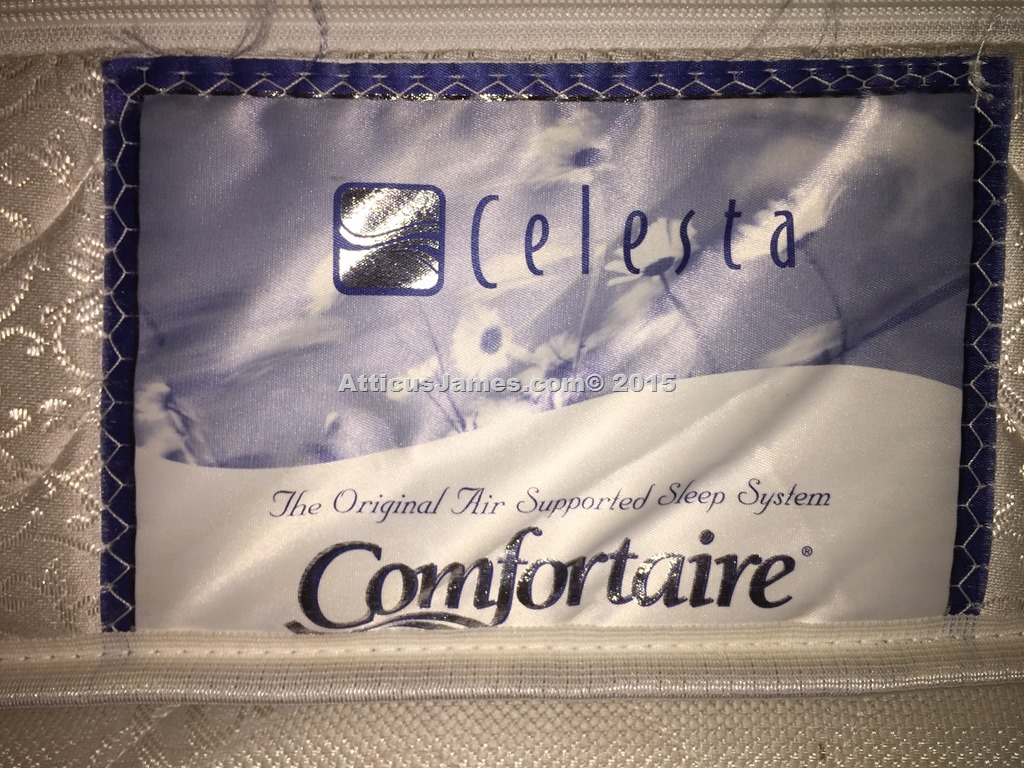 The lady I purchased the bed from was an older woman who had keep the bed in her spare bed room for guest. Since they were moving she did not want to take it with them and she wanted to sell it.
I looked over all the parts and found the bed was in perfect shape so I bought it and brought it home. A year and a half later I started noticing the foam between the pillow top and the air chambers had started to tear in the middle of the bed where I sleep. I let this go until last year when I started developing small air leaks on only one air chamber.
At this point I decided to call Comfortaire and see if they would help me.
Comfortaire and 'Debbie'
Last year I called Comfortaire to ask two questions.
1. Will they warranty the foam pad or the air chambers even though I am not the original owner,
2. What is the air chamber made out of? (so I could patch the air chamber in the meantime)
The first young lady I spoke with was of no help. She did not know what the chambers where made out of. She told me that I should just use camping air mattress patching kits that use rubber cement. My second question had her even more baffled when I asked do they warranty either part.
I was frustrated at this point so I asked the customer support girl if she could transfer me to her manager. I normally do not like to call someone out in a review but for the sake of how horrible she was I am willing to put aside my rule.
I have to say at this point that while I will admit to being frustrated, I make it a point to never be rude or belligerent on the phone. No one deserves that, even if they are that way to me. I normally find that being polite and nice gets me what I need.
I spoke with Manager 'Debbie' about my dilemma about the foam tearing and to keep this review short I will just say she told me flat out that they do not warranty the foam on their bed because they know they will wear out and need to be replaced. (really? It is inside a zippered case covered by a pillowtop!)
Debbie is the type of customer service help you want to have helping the people you really hate. Debbie left a really bad taste in my mouth and is the whole reason I wanted to write this review. She was never really interested in helping me and at one point she told me to just throw away the bed and go and buy a new bed from a different company.
The Foam
Since Comfortaire was in no real mood to even discuss replacement of their foam I went and found a foam mattress topper at my local bulk item club and I replaced the foam. $75 for something that should be warrantied. Tsk tsk, shame on you Comfortaire.
The Leak
To date I have dealt with 7 cases of one air chamber leaking air through the night and giving me a bad night.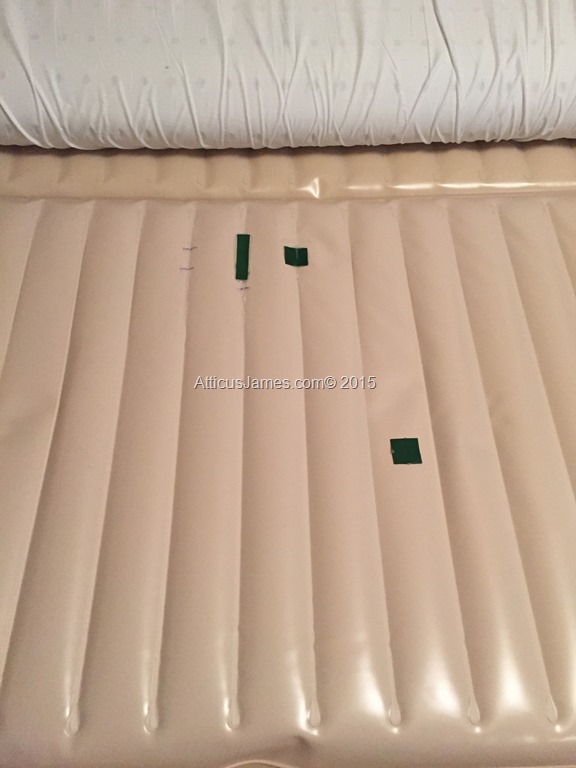 My air chambers as I found out are not made of rubber or nylon or any of the normal patchable air mattress material. No, that would have been too easy. They made the air chambers out of urethane.
This means that rubber cement patching kits are worthless. You need to use superglue. The problem is that you cannot just put a few drops, you have to create a large patch using the glue, which takes hours to dry.
I have found I can use a rubber patching kit if I superglue the rubber patch to the air chamber.
I have also learned that getting into and out of bed is how the leaks have started. These air chambers are extremely thin, and I can only guess that I am rubbing the top to the bottom getting in. Also, anytime someone sits on the bed while someone else is laying in the bed, a new leak starts to form. The longer two people are on the bed, the bigger the leak gets. (Remember, this is a QUEEN BED!)
How to find leaks
Do you have an air mattress that you think is leaking but you do not know where?
I use an old spray bottle filled with a little drop of soap and then fill the bottle with water and then I spray the whole mattress while it is inflating and you can see the soap bubbles start to appear.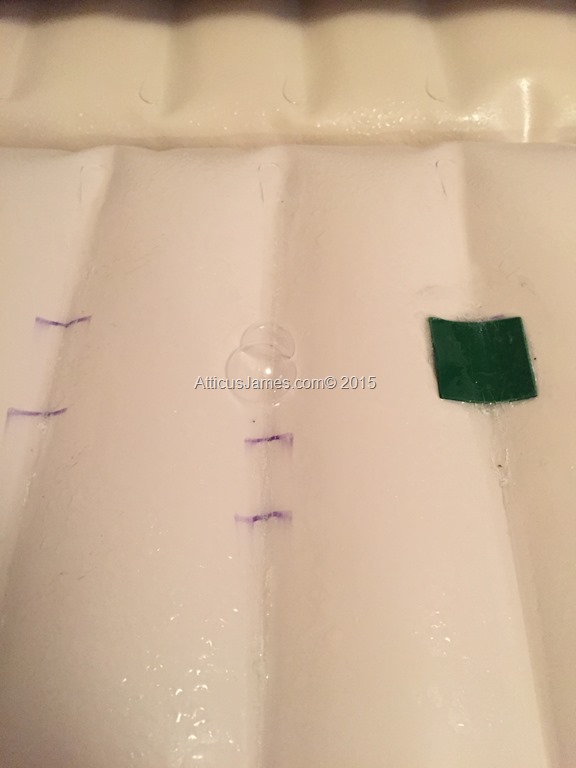 Conclusion
If you are in the market for a new mattress I can only share my experience with you and say that if I had known what I know now I would have spent a little more money and gone with the Sleep Number Bed.
Comfortaire was rude and not caring at all when I tried to get help and no one deserves to deal with that.