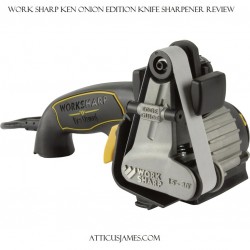 For Christmas last year I went out and got myself the Work Sharp Ken Onion Edition Knife Sharpener (Without tool sharpener). I didn't really spend much time trying it out for the first few months. It seemed complicated and I was being lazy with my semi-dull knives. It wasn't until a friend who is in the Army came to visit, that I really took it out and started learning how easy it really is to get a razor edge.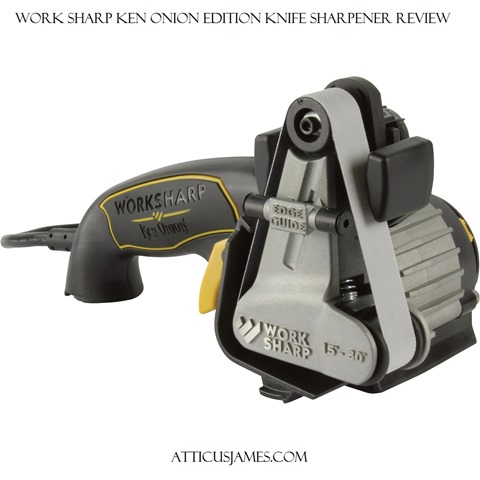 Introduction
I have been on the hunt for a razor edge on my knives since I was old enough to learn how to sharpen knives. I have stick sharpeners, block sharpeners, diamond sharpeners, kitchen and utility sharpeners. I have so many sharpeners that I have a shoe box full of them and I am still finding ones from my youth. In my early teens I destroyed a few of my cheap knives by trying to sharpen them with a rotary tool and a metal grinding bit, all in search for the elusive razor edge.
First Impressions of the Ken Onion Edition
At first I wasn't impressed with the edge I was getting with this Work Sharp sharpener. It was sharp but I really didn't feel I was getting my moneys' worth from this Work Sharp sharpener. The kit comes with a DVD that walks you through the steps. I just wasn't impressed because the knife wasn't all that sharp. I figured this wasn't a dummies guide to sharp knives and that it really took a long time to learn how to get the edge you were looking for.
My First Sharp Knife
After working with the sharpener for a few hours I figured something out. My knives had been to hell and back. I have been "sharpening" them for years on different stones and angles and I had made a mess of my blades.
I needed to start fresh and re-profile the blades to the correct angle (as per the angle and belt guide in the book). I took my P120 extra coarse belt (this is a step I took on my own without guidance from the book as they do not talk about doing this) and redefined the edges on all of my blades. This was the first and most important step I have found to the perfect blade.
You need to start clean and have all the nicks and divots in the blade removed. Once I had done that, I followed the user guide and lo and behold I had a razor edge on my 10 year old EDC (EveryDay Carry) knife.
I have noticed that the knifes that have been re-profiled last a little bit longer between each sharpening now. I can see how re-profiling is not a one step method. It may take many sharpening's before it is a super sharp leather cutting blade.
My $10 Razor Knife
There was a deal on some website offering these folding half serrated knives for $10. I picked up one for each of my family. I wanted them to have an inexpensive knife they could carry without worrying about losing an expensive one.
For those of you who do not feel the need to carry one on you, I recommend trying it out for 1 or 2 weeks. Count how times you find yourself using it.
When I opened the package with the 4 knives I wanted to see how sharp they were. I tried to shave some arm hair and found I couldn't even cut warm butter.
I wanted to put this Work Sharp sharpener to the test and see if I could find a real edge on the knife or see if I had just bought myself 4 knife shaped paper weights. I went to my first step of re-profiling the edge. I quickly got a razor sharp edge on this knife and now I have been carrying it for about 3 months.
The Belts
The Work Sharp Ken Onion Edition Knife Sharpener comes with 5 belts: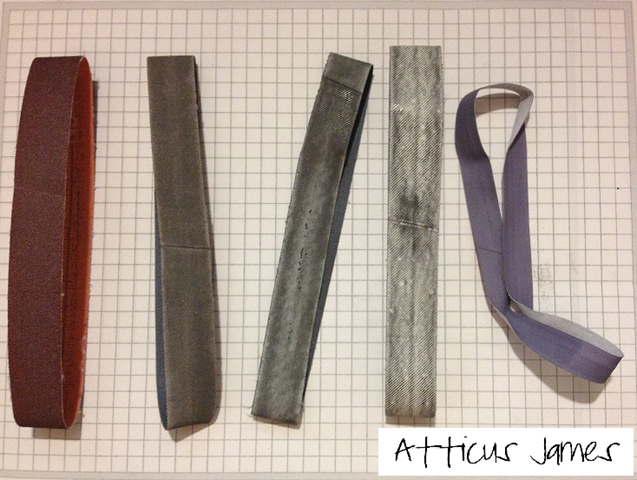 (1) P120 Extra Coarse Grit Norton Ceramic Belt,
(1) X65 Coarse Grit Norton Norax 65 Micron Belt
(1) X22 Medium Grit Norton Norax 22 Micron Belt,
(1) X4 Fine Grit Norton Norax 4 Micron Belt
(1) 6000 Extra Fine Grit SiC Micro Mesh
The "X" belts are the ones you will use the most. They are meant for every blade with the exception of serrated, gut and bread knives which you use the 6000 Belt on.
I have noticed that after about 40 knife sharpens the belts are starting to wear. The book says "Belt discoloration is not an indicator of wear. Engineered belts expose new abrasive as they break down. Used belts may take extra strokes but will continue to remove material. These belts will keep going longer than you think. Keep using them as long as they cut." [Found in the Ken Onion Edition User Guide]
Final Thoughts
I have found my razor edge!
Once I took the the time to sit down and read the book and started practicing, the easier it was to put a nice edge on my knives. Work Sharp does not have a hard box for this $150 sharpen which I think would have been better.
I keep mine in the original box it came in with all the belts and book. I think if it had a carrying case, like that of most drills, it would really add to the life of this sharpener. I have had a few friends come over with knives to have me sharpen for them. I have taught all of them how to do it themselves so they can take my Work Sharp home and sharpen all the knives they have at home.