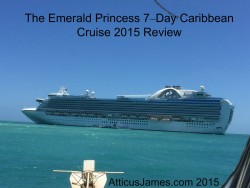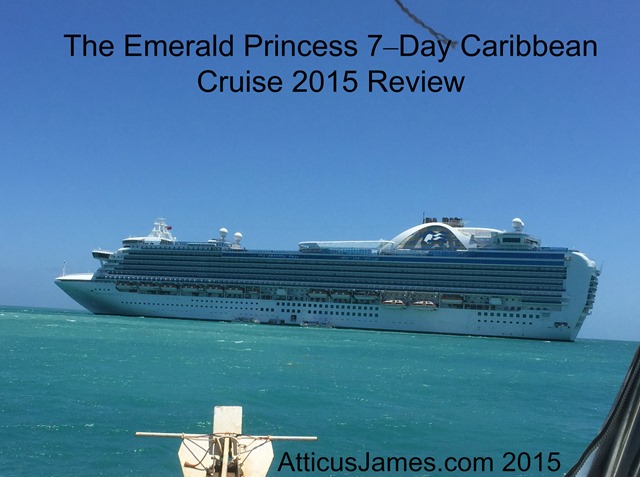 First I would like to start with an open comment for Princess Cruise. Fire your American staff. I could always find them on the ship by simply listening for the arrogant smug cocky jerks who help legitimize the stereotype that all Americans are pompous jerks. Rant over.
The Trip
I was invited on the Emerald Princesses last Caribbean cruise for this season. We left out of the port of Houston and made out way to Honduras, Belize and Cozumel before returning to the port of Houston for disembarkment. From Houston the ship left for their Mediterranean voyage.
The Food
While this review is not a comparison I do feel I should mention that Royal Caribbean does much better at all the food services with the exception of the formal dining room dinners. I do not know if the bakers just really were that bad at making bread or if that is normal but the bread was always terrible. The room serve food was about as good as a gas station lunch or breakfast. The sampling of fruits in the buffet were watermelon, honeydew and pineapple. None of which was really that good but you cannot blame that on the ship. The buffet foods were fairly boring to me but I did enjoy the Belgian waffles every morning.
As some of you might know I tend to work out about 5-7 nights a week and my workout partner wanted me to do a weigh in before I left and when I came home thinking I would gain weight. sadly because the only meals I looked forward to eating was dinner I only lost weight since I continued to work out on the ship.
Shopping
There are very few things I like shopping for. That list is: Food, guns/gear and electronics. Outside of that I will buy what I need when I need it. If it is expensive, I will do enough research to know I am getting the best deal and I will be done.
While sitting in the terminal waiting to board the ship we were given a scavenger hunt that had to be turned in by "3pm" that day to be entered to win prizes. Of course I wanted to do this, thinking I might be able to win an excursion or something. No, it was all a ploy by Princess to get you to go to their jewelry stores and in port "shopping partners". This annoyed me more than I care to admit. I don't like being tricked into sitting and listening to some guy droning on about shopping.
We chose not do any excursions on this trip, but to see what was offered in each port.
In Honduras, it appears that Princess and Carnival have created their own port "city" with all of their "partner stores" so you only have one choice if you want to see anything in the country and that is to take the excursions. Last time I was in Honduras for a cruise at least we docked at real port town you could visit that didn't just have Diamonds International and all the other jewelry stores. There is a nice beach there that was created. A reef has been artificially created that we found and had a fantastic day of snorkeling.
In Belize we anchored 5 miles away and tendered to shore which was a real port town. I got my passport stamped because I had nothing better to do in this town in walking distance.
When we got to Cozumel I was worried about being kidnapped. If you stay in the guarded "port city" it was fine. But the minute you step into Cozumel you can understand why Americans are kidnapped down there.
If you are looking to experience any of these countries I do not recommend using a cruise line to do so.
At Sea
I enjoyed being at sea more than getting off the ship. I enjoyed the view as we sailed thru the drilling platforms. I loved watching the water being churned up off the stern of the ship. I really adored the beautiful sunbathers. I digress.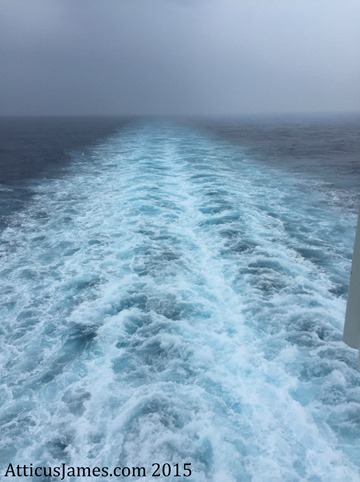 I did not bring someone to spend time with on this cruise. I went with my family and everyone kind of had their own thing doing what they wanted to do. I spent a good part of my time alone (on purpose) just walking around exploring the ship. I highly recommend bring someone to be with.
Formal Dining Room
Our dinner was at 5pm everyday due to the size of our party. This was not very conducive if you wanted to go to the singles meeting. If you tell me I could have just skipped one night to meet people, I will question your sanity as to why you would think I would give up the tasty food to meet people.
Our head waiters name was Hamit from Turkey. He took very good care of our table as half of my family have dietary restrictions (allergic to chocolate, cream cheese, gluten, things like that) My grandmother is gluten free so Hamit came to the table every night so she could order the next nights meal it to her dietary restrictions. This was an incredible service and I was very thankful for it. I know trying to please everyone on a ship with 3000+ paying passengers can be a little difficult.
Our waiters names were Edgar and Caesar, both from the Philippines. Edgar was a great waiter. He treated us like family and joked and made dinner very enjoyable every night. Caesar didn't talk much but he was always on top of refilling drinks and getting the food from the kitchen. If your waiter recommends something it is a fairly good bet that is what you should try. If you like to try different foods and not a boring eater Princess will offer you many food adventures. Edgars recommendations were always fantastic. He always knew that my father and I would always order shrimp cocktail along with whatever else he suggested.
As I said before, dinner was the only food I looked forward to in the formal dining room and I truly believe Hamit, Edgar and Caesar had a big part in that.
I am leaving last names out since I did not ask if they would like to have their full names published but I am sending another review to Princess directly that will have their names.
I celebrated my birthday with my family on the ship and when you have a birthday on the ship they have a chocolate dessert cake to die for.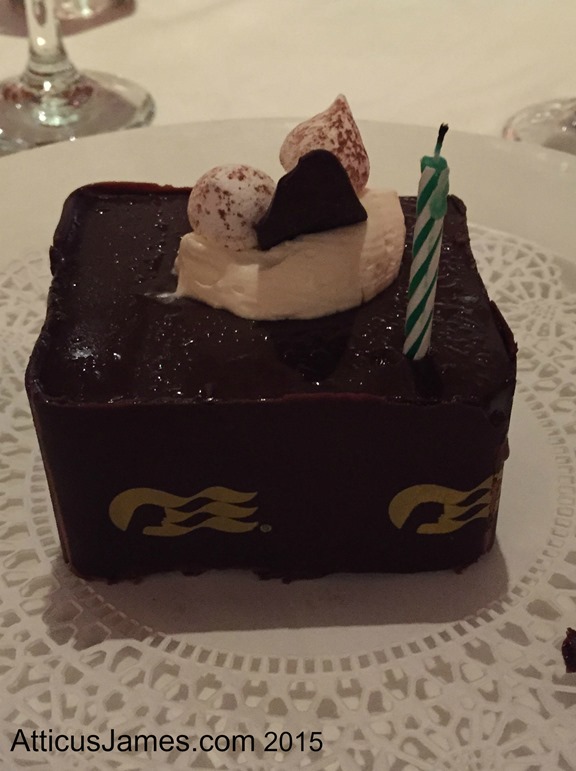 If you have never been on a cruise ship before I will share something that not everyone might know. you can order as many plates of anything on the menu as you want. If you want to sample a few different items you can do that. As much as you want. (if it is not on the menu however they may not offer that item after that day). Yes, that goes for dessert too.
Unlimited Soda & More Package
I apparently do not drink enough during the day to make this worth the cost. At $8.05 per day for the package you can get soda, mocktails (non alcoholic cocktails), shakes, juices, floats and hot chocolate. While it seems like you can order drinks mostly anywhere it takes so long to get them that it is almost not even worth the time to wait. I did have a shake everyday and that was nice.
Snorkeling
While in Honduras one of my family members asked the tour desk on the ship if there was any good snorkeling locations that was not on a tour and he flat out lied. When we got off the ship we walked to the beach. As you look at the ocean to your left you'll see the ship and the swimming area but if you swim to the right of the dock you will find a very nice shallow reef. I don't do snorkels so I brought a pair of my old competition goggles from my gym bag and just swam around looking at all the fish and coral. It was awesome.
The Entertainment
I do not enjoy musicals or plays. I do love comedians and GOOD illusionists.
On the ship we had comedian Miguel Washington. This was the first show I went to on the ship because everything up to that point had been musicals and I don't care how beautiful the dancers are it just is not my cup of tea to sit there and watch people sing and dance. My parents said they were good, but not as good as they have seen on past cruises.
I went to see his show with my parents and I have never truly seen my mother laugh so hard in my entire life. His jokes were good and clean, but Texan so… not politically correct. If you get the chance to see him live anywhere I highly recommend him. He was a good comic.
Also on the ship we had Michael Barron "illusionist." My momma told me if you ain't got nothin' nice to say don't say NOTHIN' at all. If you see him don't sit too close to the stage, try to sit in the middle seats further back in order to keep the "illusion" alive.
Overall Thoughts
This trip would have been more fun with someone to share it with but overall I liked the ship.
The food for the most part was boring but when it came to dinner you could bet I was going to walk out of there full.
Ports were about shopping which I don't like but hey everyone wants to make money. Just please stop forcing it down my throat.
Best part of the ports was the snorkeling in Honduras. Next time I go on a cruise I will do the excursions.
Princess Cruise Line seems to be more of an older demographic. This isn't bad if you are looking to have a quiet relaxing time but if you are in your youth and looking for fun this might not be for you. They cater to a more quiet group.