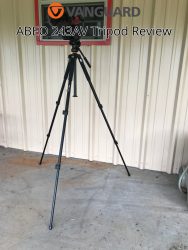 First off, I would like to say I have been trying to make a video about this tripod for a while now and it has always ended up being 30-45 minutes long. I think writing my thoughts on this tripod is a better way to condense the info you are looking for.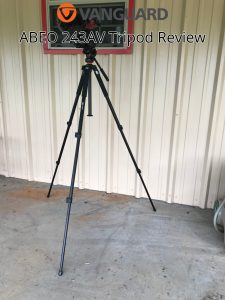 Vlogging and Blogging
First off, I would like to say thank you to Vanguard for sending the ABEO 234AV tripod to us. When I first started blogging and then vlogging, I was using a cheap cheap cheap tripod that I picked up online. It worked for what I needed it for and honestly I think anyone who is unsure about their future in vlogging and blogging should start with an inexpensive tripod. As you work your way up the ladder of Camera gear you should upgrade your tripod to match.
Gifts are Great!
For Christmas a few years back, I was gifted the Vanguard Espod CX 203AGH tripod. This is a great lighter weight tripod that I carry as my travel tripod.
While the Vanguard Espod CX 203AGH tripod is a great tripod, it didn't always match the style of videos we were setting out to create. The head on this is a pistol grip making it easy to level the camera even if you are not on level ground, it is tall enough for most anyone to use for photos or for videos, but it was missing something. Enter the ABEO 243AV tripod from Vanguard.
Specs:
Abeo 243AV is a lightweight, aluminum video tripod, ideally suited to work in the field or in the studio with lighter weight equipment.
· 24mm 3 section aluminum alloy legs adjust to 25, 50, and 80-degree angles to enable extreme low angle photography
· Anti-spin central column stays in position
· Includes PH-113V two-way video pan head with lever locks for 360 degree rotation and frontal tilt movement
· Short column adaptor allows users to get close to the ground for low-angle videography
· Large bubble level on the magnesium die-cast canopy
· Thick foam on legs enable a comfortable, secure grip
· Quick release leg locks and rubber feet
A Working Tripod
This tripod is great for the work we do. I love to take it to conventions and have my camera man get great shots as he can easily pan and tilt the camera. It is lightweight enough that if you throw it in your bag you aren't going to hate yourself for carrying it. If you are working in tight spaces it folds up and stores neatly.
Shoes not for walking
The shoe for the ABEO 243av works in the Espod CX 203AGH tripod making it easy to change camera locations if you have that shoe. HOWEVER the reverse is not compatible. You cannot use the Espod CX 203AGH shoe in the ABEO 243AV head. I wish it did, but the shoe isn't so expensive that if you are running multiple tripods and moving the cameras from one to the other that you are going to be pissed off about the cost of another shoe.
Cost:
Vanguardworld.us is selling this for $169 which is what you are going to find for at Amazon. If this seems like an expensive tripod I implore you to look at the Espod CX 203AGH as it retails for $60 USD.
Vanguard vs. Other Brands
Every year I get to see Vanguard in person as they exhibit at one of the shows I attend. This year I had the opportunity to meet the owner of the company and tell her how much I love their full line of products. They make other items such as bags and scopes to name a few.
I can't tell you if they are better than any other product on the market because honestly, they are my brand of choice when it comes to tripods. This is because the people I have talked to and worked with are some of the most helpful and easy to work with people. They honestly just want their product to take care of you for years to come. That means something to me.