Growing up I spent a lot of time in the wilderness of Texas and Colorado. I was always told to watch out for snakes so they don't bite you. I am now well past 21 and I have a snakebite a few times a month.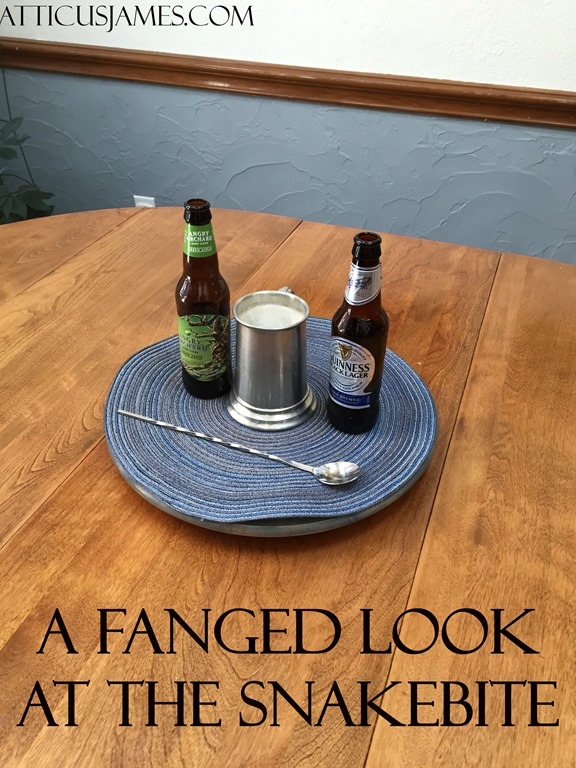 No Snakes Were Harmed During the Writing of This Post
Okay, so by now you have figured I am probably not talking about a real snake biting me. Then again, I could just be a deranged lunatic who just likes the oh so sweet feel as the venom courses though his vein *clears throat* sorry off topic.
Rum Rebellion
No, I am talking about a drink that I had never heard of prior to finding my new local bar at the beginning of 2015. I cannot tell you where the bar is for fear that ALL of you might magically show up at. You will come and want to buy a round for me, just to hear my old wars stories from when I was in the Rum Rebellion of 1808. I digress.
History of the Snakebite….NOT!
I wanted to give a little history on the snakebite as part of this review. After exhausting research and finding numerous different stories and variations of the drink, I figured, to hell with that! Who needs history when you have beer and cider to drink?!
Recipe
8oz Stout or Lager beer
8oz Hard cider
Pour your cider first and then layer the beer on top.
I prefer Guinness and Angry Orchard. I suggest it is worth experimenting with different combinations to find out what suits you. The more experimentation, the more fun!